The Penthouse in The Press!!
Vancouver Province Article, May 5, 2013
Click here!
Read Red Robinson's blog about us!!
Read this feature Article on the Penthouse from The Vancouver Courier (PDF, 610kb)
---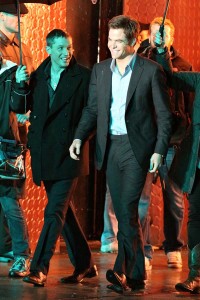 Blog entry from "Brave New Hollywood"
A "Little Sexy time" for Chris Pine and Tom Hardy
Posted on 11. Dec, 2010 by Henry-K in Blog Worthy,
Movies Actors Tom Hardy ("inception") and Chris Pine ("Star Trek") must get a kick out of the last day on the set of their new movie 'This Means War' which was shot on location at the "Penthouse Night Club" in Vancouver.
The duo spent the last couple of days inside the notorious gentlemen's club; a place as famous for it's impromptu private parties by original owner Joe Filippone as it was for the constant police raids crashing them.
Is it "sexy time?" – Tom Hardy & Chris Pine having fun shooting at the "Penthouse" gentleman's Club on location in Vancouver – photo: Splash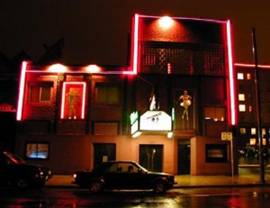 Established in 1947 and as one of Vancouver's most popular supper clubs the venue has played host to Hollywood celebrities such as: Frank Sinatra, Louis Armstrong, Harry Belafonte, Ella Fitzgerald, Max Baer, and Gary Cooper.
The Penthouse was the place to mingle and be seen.
Today as an exotic nightclub, The Penthouse remains a famous landmark and a tourist attraction in downtown Vancouver.
Now, Pine and Hardy are the next generation of famous footsteps walking the foyer and shooting a scene for the McG directed movie – the story of two close friends in war with one another as they fall in love with the same woman (played by Reese Witherspoon).
Also starring in the film is E Televison's talk show host, Chelsea Handler.
See entire entry at this link: A little "sexy time" for Chris Pine and Tom Hardy